The recent COVID-19 outbreak quickly turned remote work into a trending topic worldwide. With millions of companies being forced to go remote overnight, now many expect at least some of their employees to work from home permanently after the pandemic ends.
At Drag, we have always been a remote team. Having worked with people from 11 cities and 6 timezones, I've always wanted to write about it and feel that now is good timing to do, so here's what I want to share.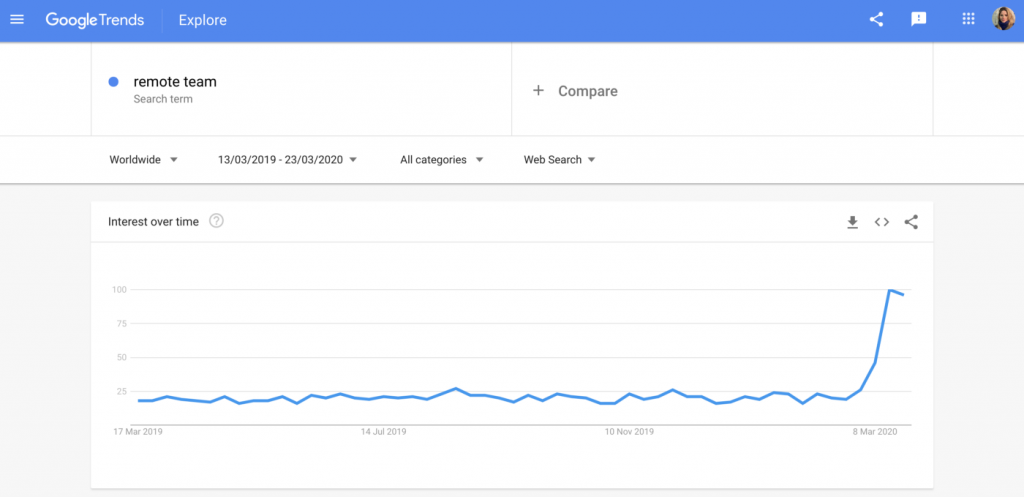 My co-founder Nick and I decided Drag would be remote since Day 1. Actually, even when it was just the 2 of us, we started working 4,000 miles apart: from Qatar, where I was working as a consultant, to the UK, where Nick has always been based in.
Since the beginning, we have faced some sort of skepticism, especially from investors, about our 'unusual' set up. "It will be too hard to scale the team", "It will make an exit harder", "How to instill a company culture if the team is not even together?" and so forth.
But we have never changed. Like anything, remote work has its upsides and downsides. And it's been a great learning curve. So far, to us, the upsides have overcome the downsides.
Why we chose to be remote from Day 1
There were some very basic reasons that led us to stay distributed.
1. The best talent, anywhere in the World
I completed my undergrad. in Brazil, worked in the Middle East and did an MBA in the US. Nick is from the UK and had worked with teams from India, Brazil and China in his companies. Our network is naturally very international. And we didn't see any reason not to leverage that with Drag.
Especially in the early days, Startup hires tend to be heavily focused on the founders' network. In our case, 75% of our team came from our own network or direct recommendations.
2. Better use of the team's time
The average American commutes 27.1 minutes one way, which translates to approximately 225 hours per year. That's almost 10 entire days. Just on their way to work.
This is not only a waste of time. It's a waste of energy. It's a downgrade in lifestyle. Employees can get drained and stressed even before starting their workday. Remote work allows us to give this time back to team members to use however they want.
Also, research shows that remote workers are more productive than their office-bound counterparts. They find it less distracting and easier to concentrate at home (not surprisingly, I've been hearing this a lot from friends who normally work in offices and have been working from home due to the pandemic).
3. Happier employees
Remote workers are happier. They also believe they have a better work-life balance, tend to be more productive, and to stay for longer with their employers.
We can also pay employees better than in a local set up. Not only by saving the extra costs associated with a local set up but also by leveraging the enormous difference in cost of living across different geographies.
Besides, we can give them the freedom to work the way they feel better and more productive. Some folks prefer to work from home, others from coffee shops, others from co-working spaces. Some love staying local, others prefer being nomads. As long as expectations are met and the team is happy, it's all good.
4. Others have proven it can be done
Our team is small and we are pretty aware of the challenges brought by remote work. But seeing the success and growth of other remote companies have shown us that it's possible.
Companies such as Basecamp, Trello, Buffer, Zapier, WordPress, Help Scout and many others, have grown their businesses to 100's of employees (and counting), fully-remote. Note, by the way, many VC-baked.
5. The future of work is remote🤖
That's what we truly believe in. We are an innovation company and don't fear to explore the 'unconventional'. We believe the skepticism about distributed teams will gradually die out — maybe at a faster pace now with the pandemic.
Besides, we are a tool built primarily for remote teams. Many of our customers are distributed, so the more we can feel their pains, the more effective we can be in solving them.
Here's what we learned
Besides talking to several founders of remote companies to learn from them, we have put together our own structure and processes to make this work.
1. Have a simple — yet documented — remote work policy
Our mindset is very "cut the BS and get things done as efficiently as possible". But we realized early on that no matter how small our team was, we needed to have something formal (and especially documented) when it came to remote work guidelines. Something the whole team is aligned on.
We have created and evolved our remote work policy organically. Just to be clear: what I'm calling 'policy' is a 2-page Google Doc with key, high-level guidelines. It's simple, yet, it exists, we took the time to think about it, all employees follow it and every new hire is trained on it during onboarding. Examples of guidelines are:
Time blocks: We work across different timezones, and still give as much flexibility as we can to our team. We don't follow the 9–5 rule, the team makes their own work schedule. The key is that everyone needs to know each other's availability (and there must be reasonable overlap), so we can work around it. We created time blocks, shared across the team, to create this visibility.

All meetings start on time, every time: If anyone is over 2 minutes late to a team meeting and did not communicate, they need to buy a coffee to their closest teammate of choice ($5 voucher via email). Repeated offenders will need to buy a pizza.
2. No need to over-communicate
I've seen a lot of articles encouraging remote teams to 'over-communicate'. I don't agree with that. Communication is, in fact, a big challenge in remote work and must be done in a very thoughtful —yet not exaggerated — way.
Instead of spending more time over-writing to each other to offset the lack of context or body language when communicating remotely, we use recording tools (when 1-way communication) or video-calls (when 2-way), which takes exactly the same amount of time as if we were together. Loom is an excellent example that you can use to record your screen and cam at the same time.
We also have a few structured touch-points (always using video):
Monday's team KPIs call: We all get together on Mondays. Teams across different areas of the business briefly update and share their KPIs with the others. There is often a lot of knowledge exchange here. It's amazing to see how people from different areas can help each other by bringing distinct points of view for a problem! Like engineers giving technical insights to a content writer on how to optimize a blog post.
Daily check-in calls: Like daily stand-ups. Each team does their own. Quick catch up on previous day update and align on focus for the day.
1:1's calls: To chat about non-work stuff, and get to know us at a personal level.
We also love memes and gifs, especially this Nick's one: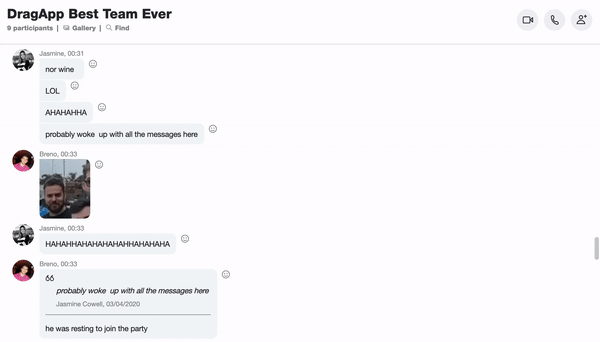 (No, we don't use Slack 🙂. Below is why.)
3. Go for asynchronous communication
I believe async work has been a secret weapon in the way we work remotely.
We are living an instant messaging generation, where an average Slack user sends an average of 200 messages a day. Keeping up with these conversations (plus WhatsApp, Facebook chat, others) can seem like a full-time job and leads to anxiety. The real-time-everything-philosophy is leading people to get constantly interrupted and distracted at work.
In Drag, working across different timezones made us excellent in nailing asynchronous communication. We do have a team chat tool that we use when strictly necessary, i.e. when a message requires immediate return or action.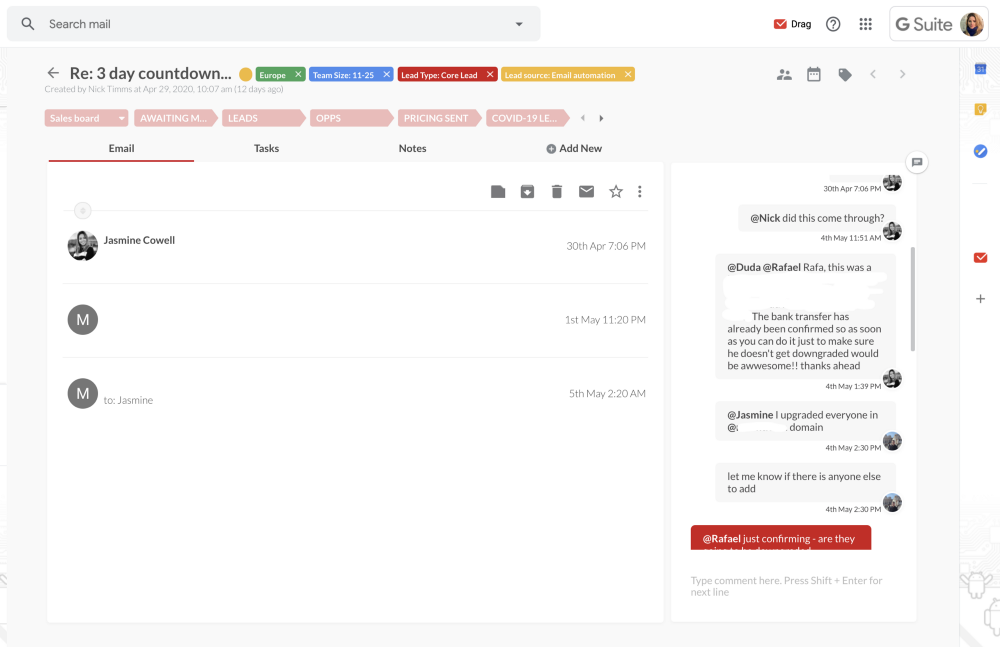 But most messages do not require immediate return or action, and it's a crime in our team to use team chat in this case.
Instead, we use our own Drag boards to communicate with other team members in an organized and structured (and not necessarily real-time) way.
I believe async communication works better for both remote or office-bound workers. The big difference is that remote workers do it better. The co-founder and CEO of Doist, Amir Salihefendic, has written one of the best posts I've read about asynchronous work if you want to learn more about it.
4. Timezone difference can be a big ally
Once I spoke to Nick Francis, CEO of Help Scout — now with 100+ employees distributed across 70+ cities — about how he ran his team. He said one of the key things when dealing with different timezones was to have at least a 4-hour overlap across the whole team.
That's great advice. Especially because at that time, we had our biggest timezone difference, 14 hours (Boston to Sydney), with barely 2 hours overlap. That obviously didn't work for us.
The timezone difference can be a killer. But it can also be great if you use it right. In our case:
Because of timezone differences, we are able to provide live support for 16 hours/day, with no one working overnight.
Having engineers spread across multiple timezones has saved us a few times. From unexpected downtime to urgent IT support requests, we have been able to solve problems much faster than we would if we had our entire engineering team in the same timezone.
5. There's no replacement for in-person bonding
We made a team retreat earlier this year in Rio de Janeiro. The last time the whole team had been together was during the Techstars program in Boston a year ago. But since then, the team has changed and some people in our current team had actually never met each other in person.
By the end of the 3-day retreat, the team could know one another on a personal level, we realigned the team on our vision, mission and values as a company, had some productive problem-solving sessions and the team went back more motivated.
We make gatherings like this a priority since the early days.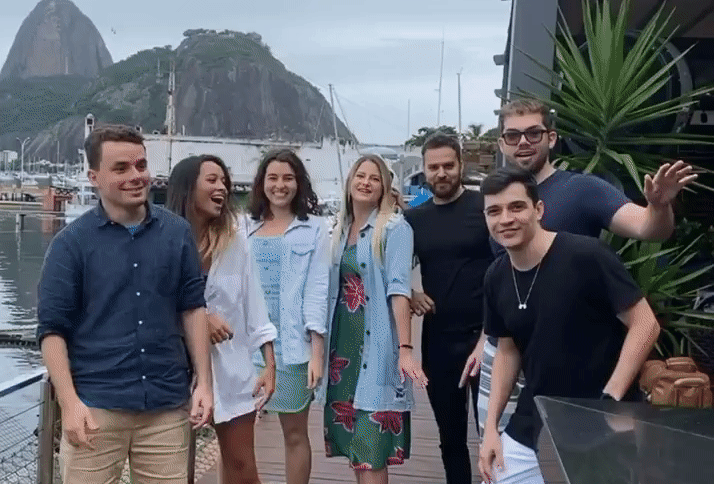 (Yes, this is where Nick's meme came from 🙂).
6. Control your work from as few tools as possible
It's all about cutting noise. Stop spreading work across many places and tools. Communication is already harder in remote teams, so keep it simple.
Tools such as Basecamp, Miro, or Twist offer an all-in-one experience for remote teams to control their work in 1 place, rather than spreading themselves across endless tools.
We work in G Suite and keep all of our work there. We created a 'Portal' with all of the important things our team need to know: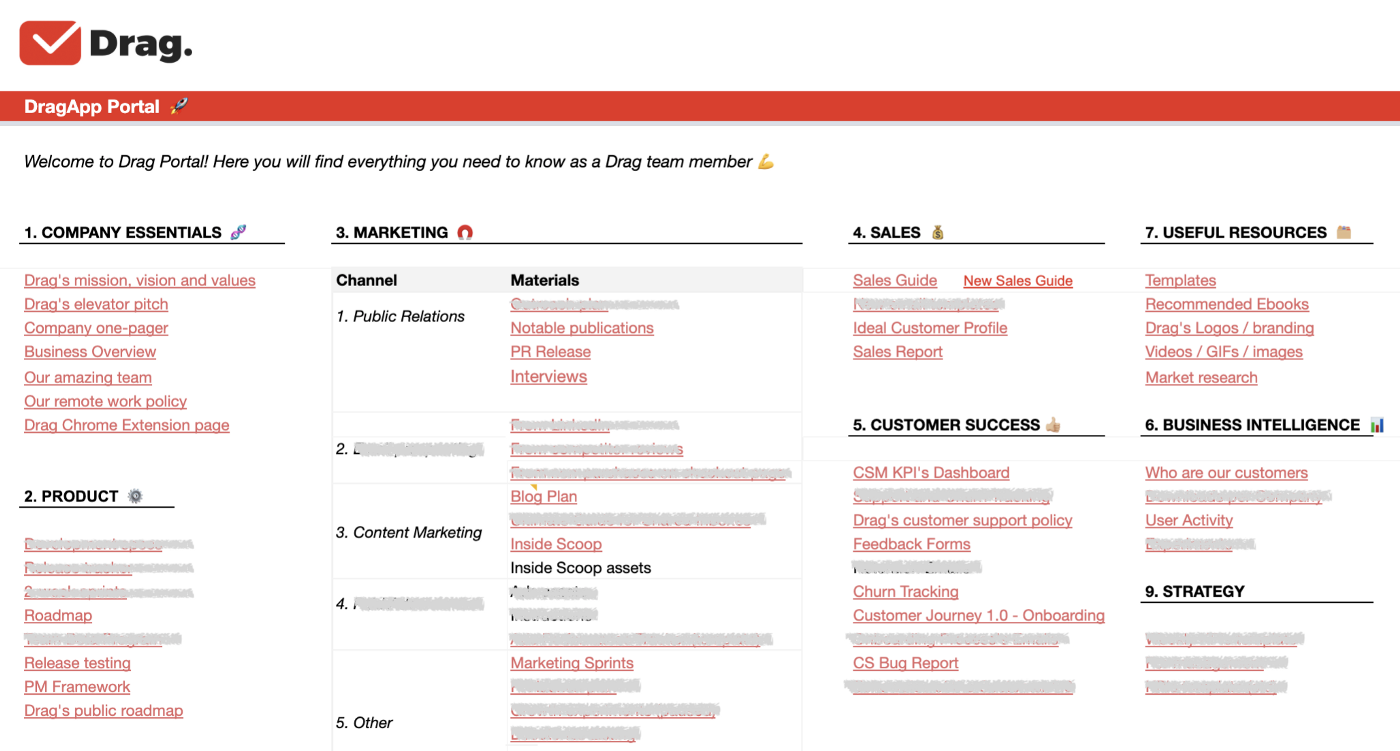 Each link links to their respective files, which are most times a Google Doc, Google Sheet or Google Slide.
On the background, these files are all linked to a folder structure in Google Drive, with respective access permissions.
Each team is responsible for keeping their own files and folder structure up to date.
We also use Drag (obviously 🙂) to control our workflows, from customer support to product roadmap.

We would choose to be remote over and over again
And we will keep learning how to do it better and better. Drag is a small team and I'm sure the challenges with remote work are going to grow as the team scales. I can't wait for these new challenges to come.
Keep in mind I was talking about an early-stage, software company here, some points may not apply to companies in different contexts and industries.